Speech Language and Communication
Learning to talk takes time! Children learn to communicate, speak, and develop their vocabulary at different times, as all children are unique.
Babies and young children love it when you chat, play, and read and them and this forms the basis of how we teach at Rowland Hill. Communicating well is really important and means children can understand the world, learn, talk to others, make friends and share how they feel.
You will find the staff doing the following everyday to help children to communicate and talk at Rowland Hill
playing with things your child is interested in, and being at their level physically while playing together
Learning lots of songs and rhymes
using picture books to introduce your child to new things – point to the pictures and saying what they can see
Offering new play experience alongside new toys and resources to develop their vocabulary.
talking to your child in short, simple sentences, so it helps them understand. Building these sentences into longer one with descriptive vocabulary as they get older
Asking open ended questions to develop their thinking and to encourage them to answer.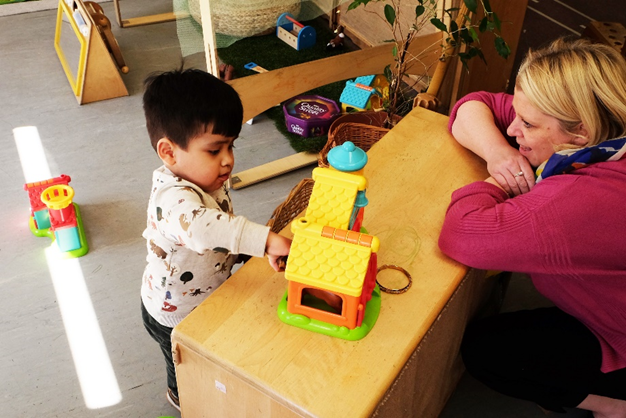 What happens if you speak another language at home? Will your child be able to learn more than one language?
It's important to talk to your child in the language or languages you use at home. A child learning more than one language should babble and say their first words in the same way as a child learning one language.
At Rowland Hill we encourage you to speak to your child in your heritage language so enrich their learning. A child will easily learn English as an additional language as they grow and develop.
What happens if I am worried that my child is not talking?
It should reassure you to know that lots of children struggle with speech and language and that it doesn't always mean there is a deeper issue. Studies estimate that 1 in 10 children develop speech, language and communication difficulties, particularly in the early years.
If you are worried about your child's speech, language or communication please speak to their key worker.
There is lots of information to help you. Visit the following websites for more information