Lunchtimes and snacks
Lunch Menu ⋅ Lunchtime ⋅ Snack time ⋅ Process Cooking ⋅ Breakfast and Afternoon Tea
Lunch Menu
We have a kitchen on site and we offer a variety of healthy food. All of our food is Halal.
We are currently on week 4
Click below for the lunch menu and allergens:
Lunch Menu and Allergens last updated 20.01.23
Lunchtime
At Rowland Hill we really value the importance of family groupings at lunchtime. Our children sit in small groups at a table with an adult who models good table manners and the importance of trying new food.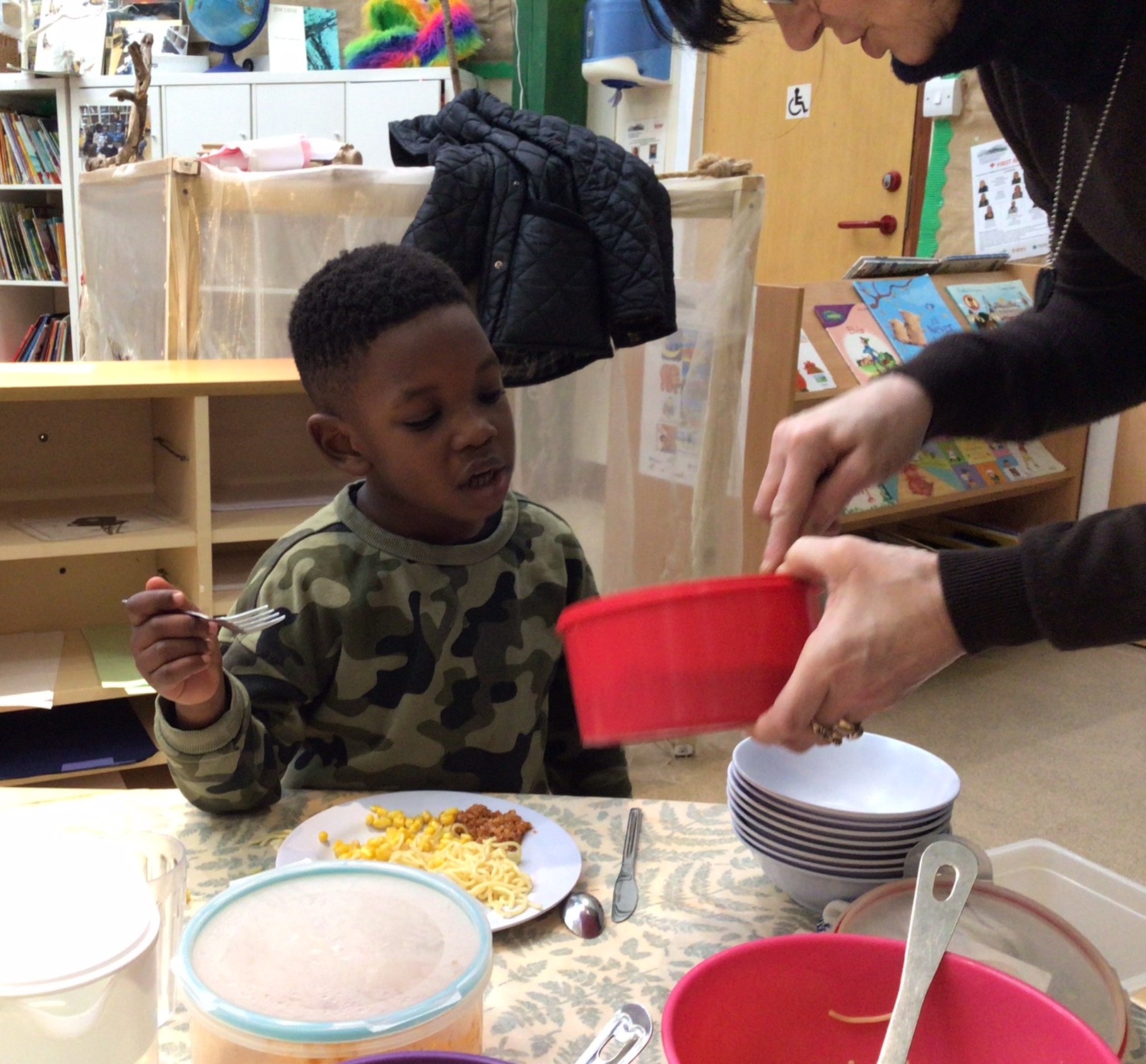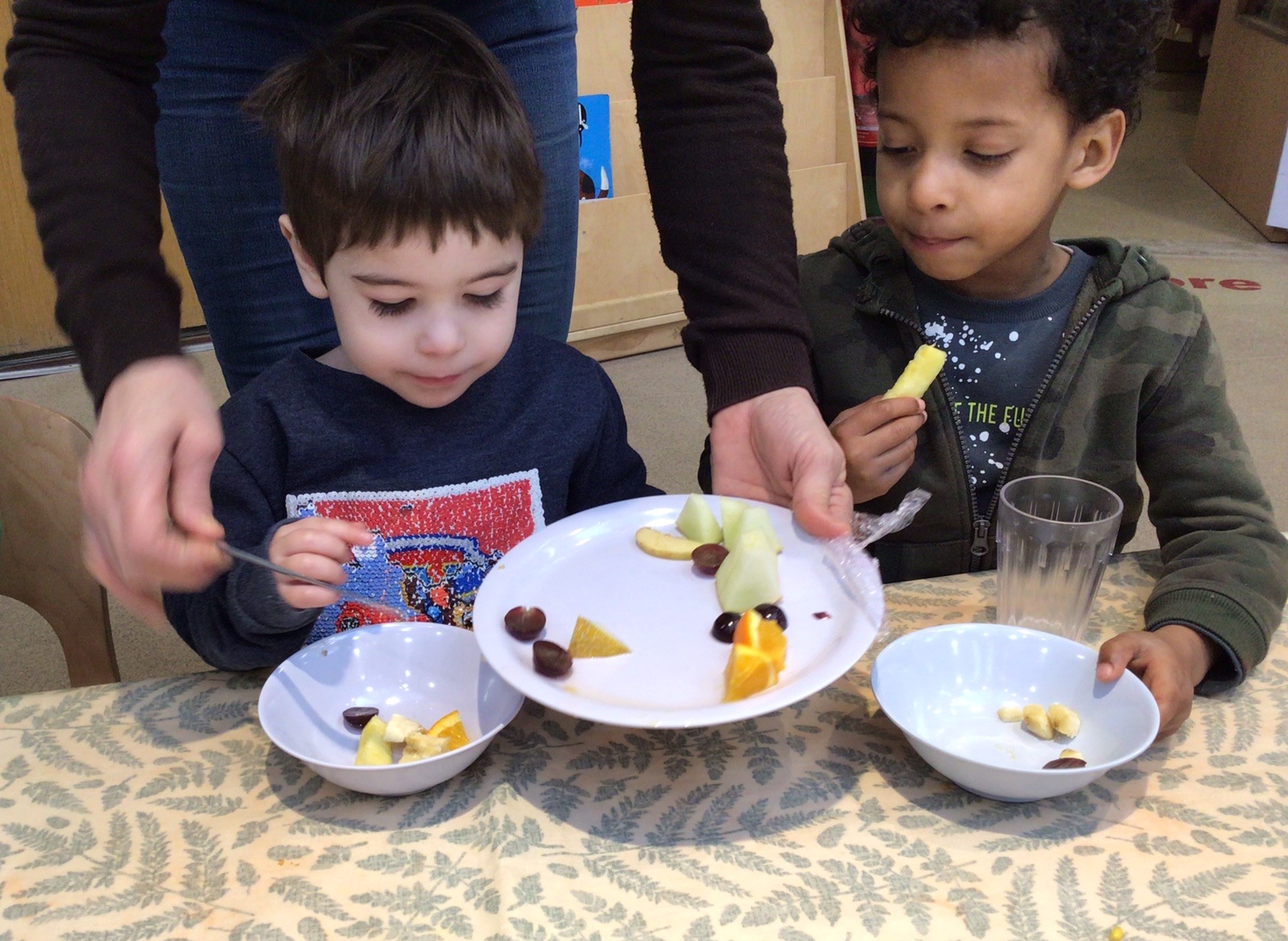 Children are supported to serve themselves independently from the serving bowls on the table, collect their own utensils, pour their own water and scrape their plates at the end of lunch.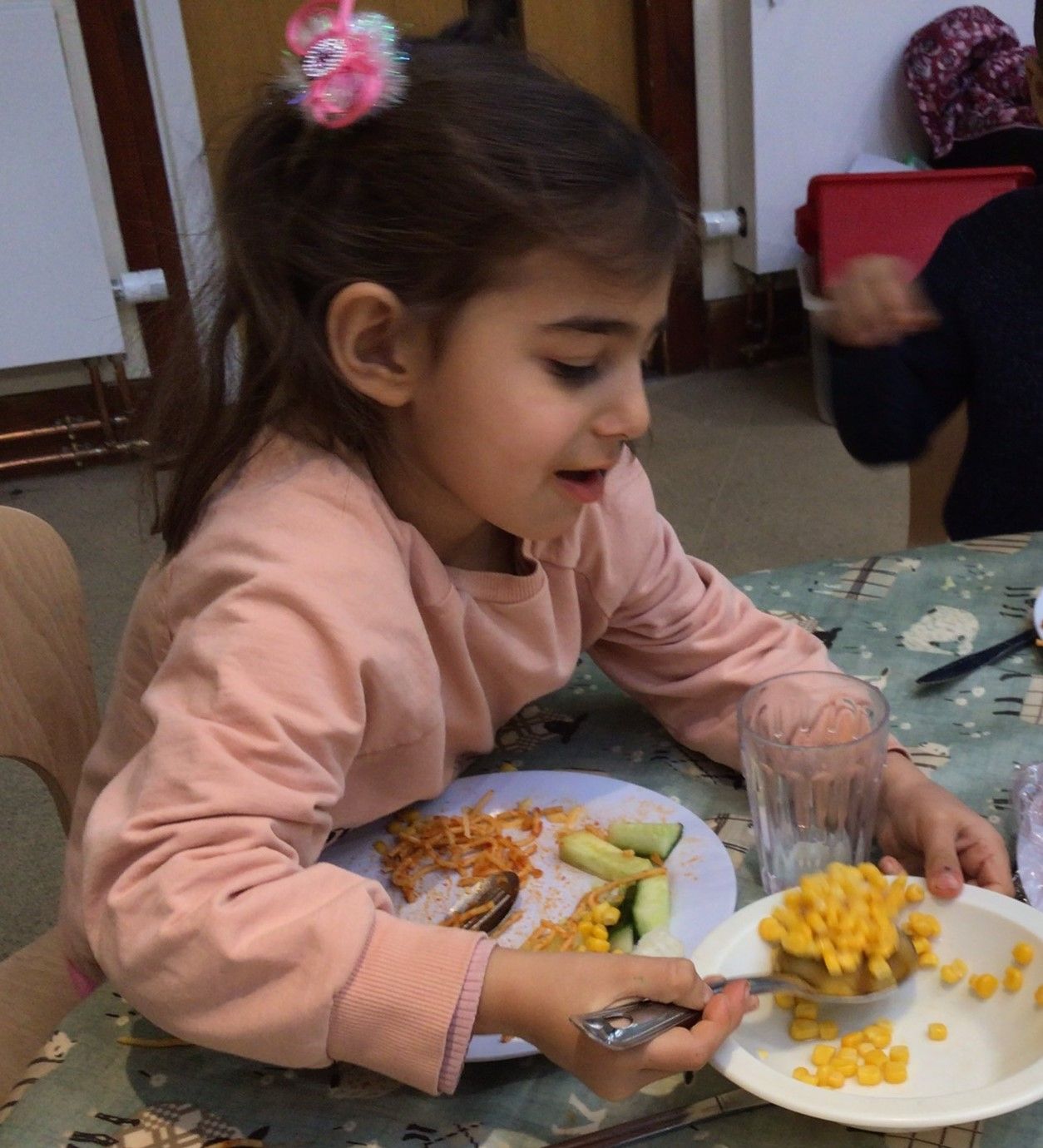 We aim to make the experience like home so tables have table cloths and serving utensils and staff engage the children in meaningful conversations.
Water and milk are available at all times for children to access independently or with adult support if needed .
Snack time
All nursery children are encouraged to cut up the fruit and vegetables independently using knives and chopping boards for snack time. They are also encouraged to serve themselves independently using serving utensils.
Please help us to provide healthy snacks for all children - please bring in weekly donations of fruit or vegetables ( cucumber, carrots, tomatoes etc ).
Please let us know if your child has any special dietary requirements. If your child has an allergy you will be asked to bring us a letter from your doctor.
Process Cooking
The children in the nursery have the opportunity to develop their cooking , maths, and Understanding the World skills using the specially designed Process Cooking area. Children gain huge satisfaction from making their own individual food item. It is very much about the process and not the outcome. Children gain early literacy skills such as reading the Process Cooking cards using symbols and numbers.
Process Cooking is a New Zealand model and was pioneered by New Zealand Teacher - Sue Kilgour in her publication 'Process Cooking in Early Childhood'.
Breakfast and After School Teas
Breakfast and tea are prepared and provided by staff on site.
We are currently on week 4
Click below for the Tea Menu:
Tea Menu last updated 20.01.23
Holiday Club lunches
The kitchen staff will be providing lunches and afterschool club meals during the Holidays.
⋅ Back to start ⋅